South Africa has one of the highest murder rates in the world, with nearly 20,000 homicides in the year 2021.
Many of the killings occur during robberies and hijackings. These are common in a country where one-half of the population lives on less than $2 per day.
According to the crime index ranking, South Africa was the most dangerous country in Africa in 2022, followed by Angola, Somalia, and Cameroon. Murder and organized crime are rampant in the country. In 2022, the country had one of the highest.
Even an onslaught of violent crime afflicting South Africa shows no sign of abating; the country is continuing to lose its most prominent musicians through assassination.
Lucky Dube
South African Reggae star Lucky Dube was killed in an apparent car-jacking attempt on October 18, 2007. The 43-year-old musician was shot in a suburb south of Johannesburg.
South African police said the renowned Reggae musician was shot by three gunmen as he dropped off his son in the Rosettenville suburb of Johannesburg.
Lucky Dube achieved world fame through music with a social message such as this 2003 song about the ravages of AIDS, called "Number in the Book."
He received some 20 awards during his 25-year career and was the first South African musician to be signed by the Motown recording label in the United States.
Born in 1964 to an impoverished family in northeastern Mpumalanga Province, Lucky Dube released his first album at the age of 18 years. He began his career performing the urbanized Zulu music called Mbaqanga. But he also recorded albums in Afrikaans, the language of the white minority.
Dube made his mark on the international scene with Reggae music and became one of the best-known African vocalists of the genre.
Gito Baloi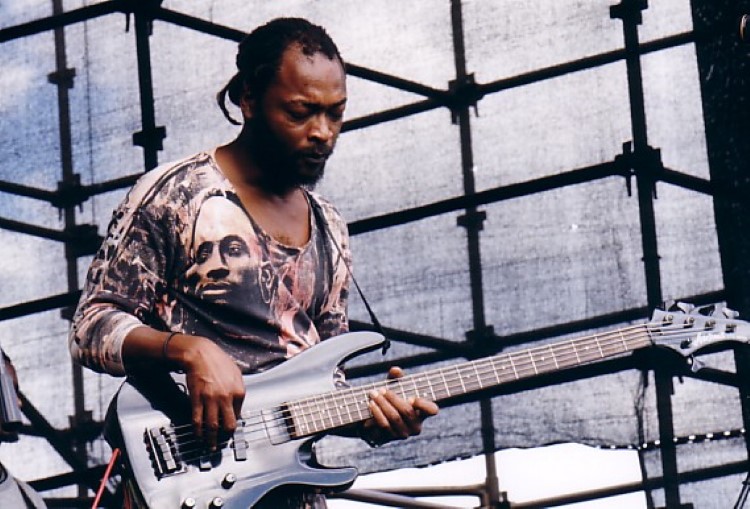 On April 6, 2004, gunmen shot dead Gito Baloi, one of southern Africa's most celebrated musicians in central Johannesburg in an apparent robbery.
He was a bass guitarist and one-time member of the jazz group Tananas was hit in the neck when two men fired three shots into his car early on Sunday.
Superintendent Chris Wilken said the musician was driving back from a gig in Pretoria and was dropping off a friend when the incident occurred. His car and musical equipment were untouched, but it is thought the gunmen took his wallet.
Originally from Mozambique but resident in South Africa for many years, Baloi was known for its innovative style. After co-founding Tananas he released several solo albums and formed his own band in the late 1990s.
DJ Sumbody
South African DJ and producer DJ Sumbody was murdered in Johannesburg on November 20, 2022.
The news was confirmed in a statement posted on Instagram by his record label, Sumsounds Music.
One of the most adored names in amapiano, the Pretoria-born artist started out as the host of a radio show Mashaedi on the Engage on Tshwane FM 93.6. He began producing in 2017 and shot to fame with "Monate Mpolaye" the following year. In 2019, he released his debut album, Ashi Nthwela, and his most successful track, "Iyamemeza," in 2021.
Vusi Ma R5
Vusi Ma R5 was gunned down outside Legentsheng in Soshanguve on January 30, 2023.
At approximately 1 am police were called to a shooting incident where a 35-year-old man was found lying next to the road with gunshot wounds.
According to reports, the victim was sitting with his friends outside a tavern at Extension 13 in Soshanguve when he went across the road to the car.
Vusi Ma R5, born Itumeleng Mosoeu, 35, was known for his hit song Tse Nnyane.
He took the country and music scene by storm when his fun and unapologetic music captured the hearts of the masses.
Headman Tshabalala
A founder of the South African vocal group that backed American singer Paul Simon on his best-selling ″Graceland″ album, Headman Tshabalala was shot to death in a fight.
He died aged 44.
Ladysmith Black Mambazo sang intricate background harmonies on ″Graceland,″ Simon's album that featured traditional African rhythms and introduced the group to the world.
AKA
Rapper AKA was Friday, February 10, 2023, shot dead in South Africa.
The musician, 35, was gunned down in a drive-by shooting, police say.
AKA was shot six times, according to reports.
Before meeting his death, the rapper flew from Johannesburg to Durban on February 10 for his birthday party, which was scheduled to hold in Yugo Nightclub.
AKA promoted the show on his social media page as he asked fans to show up.
Before he was killed, AKA had gone to a fish restaurant on Florida road with some friends and his bodyguard.
He posted his location on his Instagram page. After the meal, he stepped outside the restaurant and was shot six times.
According to eyewitnesses, it was a drive-by shooting while others claimed someone worked up to him and shot him.
Meanwhile, one of his friends standing with him was killed while his bodyguard was injured in the shooting.